I've just had my second birthday! Just over two years ago, I threw caution to the wind to fire up my new content marketing and brand storytelling business 'Copy That Sells'.
A successful content marketer, I felt the corporate world was not lighting my fire. My burning desire was to use my content marketing skills to help small and medium-sized businesses get their voices heard by the ideal customers they'd love to target. I wanted to hone a hot business story which would warm the coolest of clients' hearts, helping them to turn their own clients into the best advocates they'd ever had!
After two years of hard graft at the coalface, here's how I stoked up the fire. Here's how I beat hot metal with a hammer to craft the next phase of my growing business. Two years in, here are some practical tips for doing the same.
1. Blaze a trail with a brilliant business story and marketing strategy
Photo credit: Karen Bennett Photography, https://karenbennettphotography.co.uk/
Your brand story needs to emotionally resonate with your ideal audience. These are the people who believe strongly in the values you hold dear and love the work you do. Your story is the catalyst which will attract them to you, not someone else. I always do my very best work for people I truly care about, doing the work I love to do.
In my two years running my business, I am learning not to deviate. In the process, I have successfully punched out a marketing model which allows me to serve my clients well, whilst giving me the cash flow to make it sustainable. According to Bloomberg, 80% of business start-ups crash and burn after just 18 months. Make sure you are not part of that statistic!
2. Use the right tools for the job
Photo credit: Henryk Niestrój, Pixabay
Heat your fire to the optimum temperature and use the best hammer, anvil and chisel to sculpt, weld, forge and finish a product which suits the market you wish to serve. Clients generally want repeatable content.  They know I'll write a core story which can be easily repurposed into a variety of content marketing format which they can immediately roll this out to their target audience in a consistent, cohesive, appealing way.
There are jobs I don't love, such as tax, taking me away from work I would prefer to do. They are the ones I outsource to others. I use tools like Hootsuite to schedule regular content to the social media platforms where my audiences regularly hang out and prefer to create my own content. I know that I can only manage 2 or 3 social media platforms well as a busy solo-entrepreneur!
Marketing can be time-consuming. A strong marketing plan and strategy will act as the bellows of your business. It will supply the oxygen to remain red-hot and ready to go in the direction you would love it to go.
3. Keep your fire burning brightly
Photo credit: littlevisuals.co, pexels
There will be times you will be slaving over a hot laptop, burning the midnight oil night after night. Don't let your passion fade.  Keep it stoked up by networking with the right people. Good collaborations can enable you to reduce the effort required to do everything yourself.  Then you can offer a high-quality service to an even bigger market. I've discovered the Athena network for ladies in my area. https://theathenanetwork.com. Jacqueline Rogers, its founder, has been a huge support. There is absolutely nothing she doesn't know about powerful networking!
There's no playbook for building something from scratch, so don't be discouraged if you make a mistake. Learn from entrepreneurs who've gone there before. Sources like Forbes and Business Insider are full of helpful tips from those who have trodden that journey before. This article shares great advice from 6 entrepreneurs about how to grow a business http://uk.businessinsider.com/business-advice-entrepreneurs-startup-founders-ceos-2018-5
There are many forums on social media you can join but the best in my book is the fabulous freelance heroes group founded by the fantastic Ed Goodman and Annie Browne http://www.edagoodman.com/freelance-heroes/. Here you can exchange valuable ideas with other growing businesses and freelancers who go out on a limb to serve the customers they cherish each and every day.
4. Avoid getting burnt!
                   Photo credit: Graham Hobster, Pixabay
Just as a professional blacksmith wears protective gloves, fire-resistant boots, and eye-wear, don't burn up unnecessary cash. Keep an eye on your bottom line and don't be tempted to overspend. Accumulate to speculate rather than the other way round.
Everyone will want your cash, so keep your hand firmly on your wallet.  Only part with cash reserves when crystal clear on the return on investment and contribution to your business growth strategy
5. Make sure your business is in good shape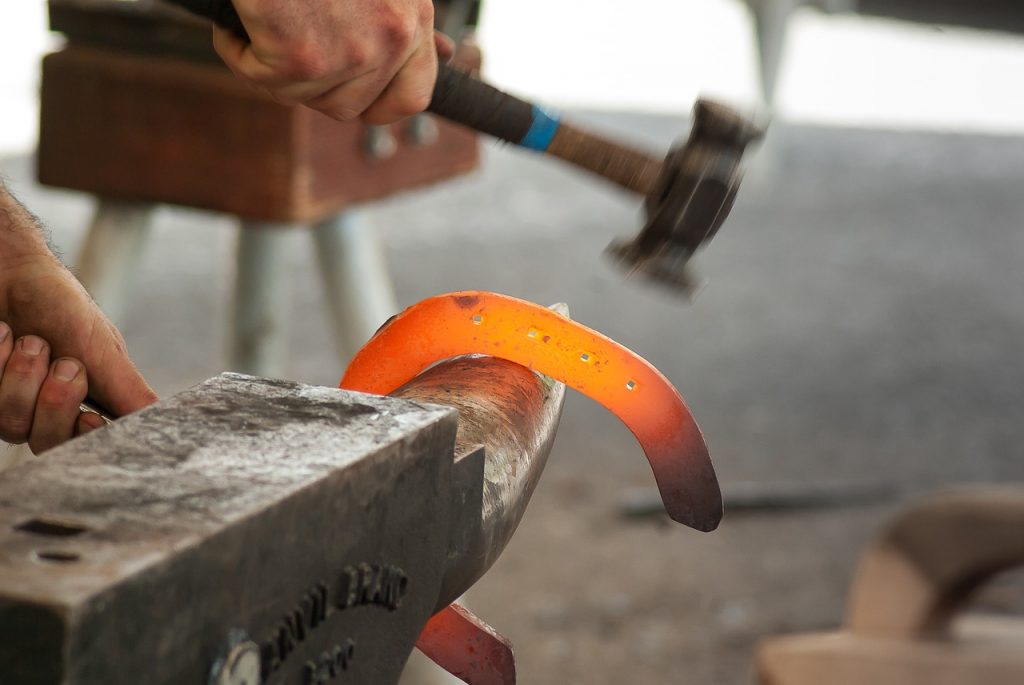 Photo credit: Jacqueline Macou, Pixabay
Don't let your business fire burn out. It's ironic that "Entrepreneurs are willing to work 80 hours a week to avoid working 40 hours a week" in entrepreneur Lori Greiner's words; don't sacrifice your health to do that. This Forbes article has some useful tips. https://www.forbes.com/sites/forbesagencycouncil/2018/02/02/six-easy-ways-to-avoid-entrepreneurial-burnout/2/#d25af3d7ee33
Schedule regular breaks and use great little wellbeing tools like http://headspace.com to remain mindfully grounded. Don't let your unyielding drive to succeed end up in burnout.
My first year in business was like grafting at the coalface. My second year was all about forging ahead to shape a strong, sustainable business which will continue to grow. So keep heating and hammering, moulding and shaping. Don't get disheartened or deviate.
Never ever give up.
Katherine Ledger is a Content Marketer, business storyteller and the owner of Copy That Sells. If your story doesn't reflect your true personality and heart towards your customers she'll help you pan out your business's gold nuggets and write them into marketing content which wins clients' hearts. Reach her at copythatsells.co.uk ,  https://uk.linkedin.com/in/katherineledger  +44 (0) 7703545117 Katherine@copythatsells.co.uk